Announcements & Special Events
Commanded to Love


Sunday, Oct 26, 2014: 9:30 am - Family Worship - Karen Ourth

Sunday, Oct 26, 2014: 10:45 am - Worship - Hugh Ferguson

Thursday, Oct 23, 2014: Interfaith Symposium - LDS Visitor Center

Saturday, Nov 1, 2014: CVG Grounds - Priesthood Retreat

Sunday, Nov 2, 2014: CVG Grounds MC Conference

Food Pantry Needs - Real Help for Real People - All classes of food Needed - be generous! Food supplies are short! Cash and canned fruit very welcome.
Come to the corner of Highway 96 South and Water Street to worship Jesus Christ with us.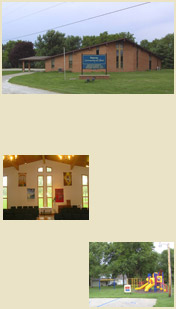 We welcome new faces of all ages
Our church home is all on one level to make it easy for anyone to enter
Our services are somewhat informal, as is our dress
Our mission goal:
"To proclaim Jesus Christ, and promote communities of Joy, Hope, Love and Peace."
We believe this means here and now – in Nauvoo, as well as throughout the world. We are a part of Historical Nauvoo, a community built to serve the Lord. We are active descendents of a rich heritage.